WordPress (Developer) App
WordPress (Developer)
This app is targeted at users who want to have complete control over their WordPress installation. The WordPress code can be accessed and edited via SFTP. WordPress' built-in updater has to be used to periodically check and install updates. If you prefer delegating the responsibility of applying updates to the Cloudron team, use the WordPress Managed app instead.
Admin page
The WordPress admin page is located https://<my.example.com>/wp-login.php.
Using SFTP
The app can be uploaded using an SFTP client like FileZilla.
You can find the SFTP login details when clicking on the i icon in the app grid.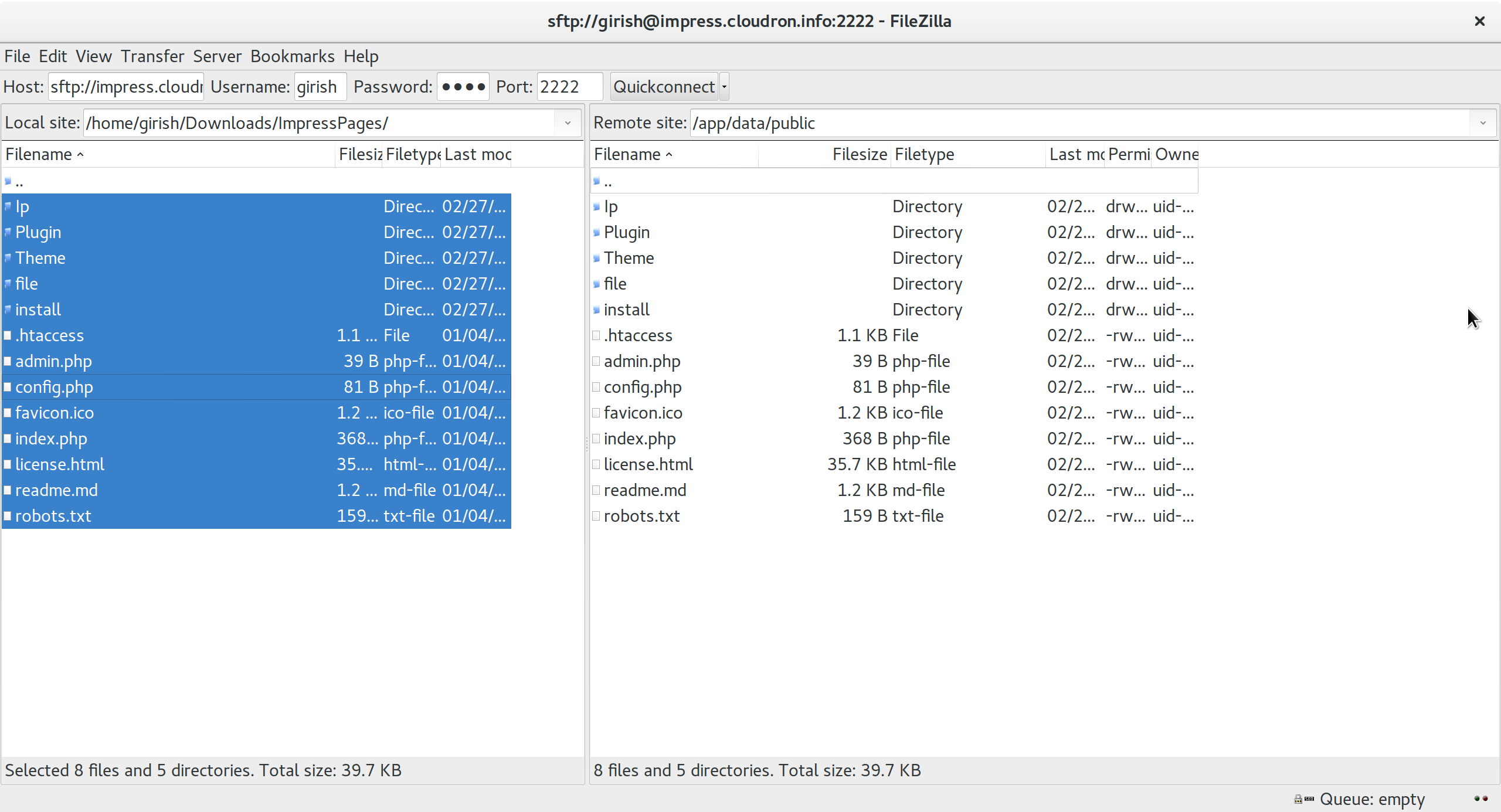 SFTP Access
SFTP access for non-admin users can be granted using the access control UI.
Memory limits
To adjust memory allocated for WordPress, edit /app/data/wp-config.php using the Web Terminal and add the following line at the end of the file:
define('WP_MEMORY_LIMIT', '128M');




define('WP_MAX_MEMORY_LIMIT', '256M');



Note that the app also has a separate memory limit controlled by the app's memory limit. If you increase WP_MEMORY_LIMIT, be sure to increase the app's memory limit. A good formula is to provide the app 6 times the WP_MEMORY_LIMIT value at the bare minimum.
WP_MAX_MEMORY_LIMIT is the limit for administration tasks, which often require more.
A detailed explanation can be found in the WordPress docs.
htaccess
By default the app does not have an .htaccess file. It can be added via SFTP or the Web terminal into the app at /app/data/public/.htaccess for / or depending on where it is required in any of the other WordPress related subfolders in /app/data/public/.
Cron tasks
The app is configured to run WordPress cron tasks every minute.
To run the cron tasks manually run the following command using the Web terminal:
wp cron event run --due-now



WordPress' built-in cron task schedule wp-cron is disabled since it is not effective for low traffic websites.
To add custom cron events, use a plugin like WP Crontrol.
Plugins
Unlike the Managed WordPress app, you can install plugins that modify the code.
Performance
GTmetrix is a great site for getting performance metrics on the WordPress installation.
Database access
Cloudron does not support PHPMyAdmin. It is, however, possible to access the database using other methods:
Open a Web terminal and press the 'MySQL' button to get console access. You can execute SQL commands directly.

Use a plugin like (WP phpMyAdmin)[https://wordpress.org/plugins/wp-phpmyadmin-extension/] for a GUI.
WP CLI
WP CLI is a command line interface to WordPress. To run commands using the CLI tool, open a Web terminal and execute commands WP CLI using simply wp. It is pre-setup to run as the correct user already.
Additional php settings can be configured, when running the cli manually with php -d key=value:
sudo -E -u www-data php -d max_execution_time=100 /app/pkg/wp



In this case setting the maximum execution timeout to 100 seconds.
PHP settings
You can add custom PHP settings in /app/data/php.ini
File upload size
Change the following values in /app/data/php.ini:
post_max_size

 

=

 

256

M




upload_max_filesize

 

=

 

256

M




memory_limit

 

=

 

256

M



Migrating existing site
See our blog on how to migrate an existing WordPress site to Cloudron.